Maps for your GPS
Note this product has been integrated into our Appalachia ORV GPS Map and is no longer available as a separate map.
GPS compatible maps of West Virginia's ORV Trail System
Version 5.1.0 (12/15/13) is available for $40. Includes CD, printed manual and instant online download of installation program. (price includes tax and shipping).
Purchase it online or mail-in with our Order Form (PDF).
CD with installer and documentation
Optional pre-loaded memory card
Free updates for 1 year
Coverage includes the Hatfield-McCoy Trail System as well as Burning Rock plus road detail for all of West Virginia. Hundreds of miles of "Outlaw" Trails (legally open for riding, but otherwise unmarked) are also included.
Maps support routing in the computer and GPS. Makes trip planning simpler; have the GPS tell you how to get back to the parking lot with turn by turn directions. See our Routing FAQ.
Detailed information, printable maps, photos and videos are available on our West Virginia Online Trail Guide.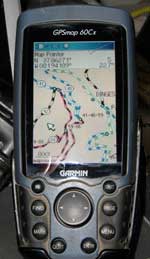 This map installer is designed to integrate into an existing copy of Garmin's MapSource, but does not require it. Included is SendMap, a program that allows you to load the maps to your GPS without having MapSource installed.
There are two map products installed, one that has full coverage of West Virginia and the Hatfield McCoy Trail System and is a "complete" map - roads, water, towns and more with colored trails and another for older (black and white) GPS units that can not support the multi-color scheme used on the trails.
Check out the additional GPS Screen Images including as seen on the computer.
This map, like most of ours, was developed by recording with a GPS unit while actually riding the trails and provides full coverage of the entire systems listed.
System Requirements: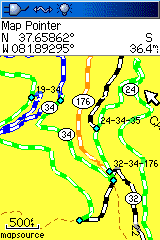 Windows based PC or Macintosh
Garmin Mapping GPS Unit.
150 MB free disk space
These maps only work with Garmin brand mapping GPS units, please see our list for specific model support and more information.
Please note: individual trails may be closed, renamed or rerouted at the discretion of the Local Trail Authority. Please check for current conditions at the trail head office of each system before riding.
Questions? Please email us with your questions/suggestions.