Maps for your GPS
Note this product has been integrated into our Appalachia ORV GPS Map and is no longer available as a separate map.
GPS compatible maps of Ohio's ORV Trail System
Version 2.0.0 (8/10/10) is available for $15 with instant downlad, CD and printed manual (price includes tax and shipping).
Purchase it online or mail-in with our Order Form (PDF).
Optional pre-loaded memory card.
Free updates for 1 year
Coverage includes trails in the Wayne National Forest plus road detail for all of Ohio. Limited coverage of Perry State Forest also included.
Maps support routing in the computer and GPS. Makes trip planning simpler; have the GPS tell you how to get back to the parking lot with turn by turn directions. See our Routing FAQ.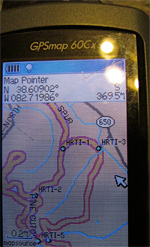 This map installer is designed to integrate into an existing copy of Garmin's MapSource. Full coverage of Ohio and the multiple OHV Trail Systems including
Monday Creek
Hanging Rock
Pine Creek
This is a "complete" map - roads, water, towns and more. Included are printable trail maps on the CD. Download (PDF) them for free now.
Included is SendMap, a program that allows you to load the maps to your GPS without having MapSource installed.
Check out the additional GPS images including as seen on the computer.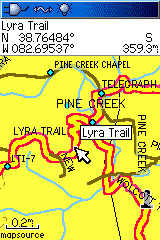 System Requirements:
Windows based PC or Macintosh Computer
Garmin Mapping GPS Unit.
150 MB free disk space
These maps only work with Garmin brand mapping GPS units, please see our list for specific model support and more information.
It's up to the rider to insure that where they ride is legal and allowed. Please check for trail closures etc at the trail head office of each trail system before riding.
Questions? Please email us with your questions/suggestions.